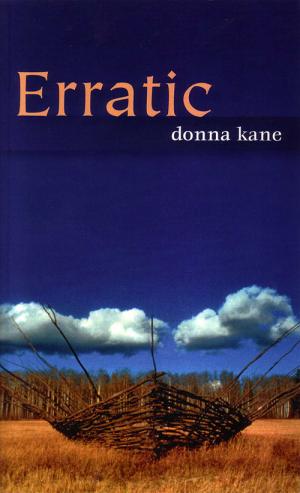 Erratic
by Donna Kane
Paperback (Poetry)
8." x 5." · 68 pages
Release Date: September 2007
ISBN 9780973972795
From the vantage point of her home in Northern BC, Donna Kane offers readers her gift for voicing her immersion in the natural world. Her language is intimately attentive to human fragility as well as our indifference to nature. For Kane, the human presence is component rather than dominant. Kane's is a much-welcomed new voice and her poems ring with empathy and authenticity.
Here is a poet to quiet the heart with flashes of the natural world as hope in coping with the true difficulties of living. Donna Kane's poems engage us because they pay as much attention to themselves as they do to their subjects: the north, living in community, living fully in the moment, and moving on from loss. Reviews of her first book, Somewhere, A Fire (Hagios, 2004) celebrate her salient metaphors and startling images; her poems move us from the ordinary into a realm of imagination and language. This is poetry that delights us and takes us deeper into our own understanding of the paradox of loss and preservation.
Donna Kane
Donna Kane's work has appeared in journals and magazines across Canada. In 2000 she received the Lina Chartrand Award for poetry. Her first book of poems, Somewhere, A Fire, was published in 2004 by Hagios Press. In addition to her writing, Donna runs the Writing on the Ridge Reading Series. Writers from across Canada have experienced the Peace River's unique hospitality. Ken Babstock has dodged bee-bees in Rolla, David O'Meara has seen a ghost at the Alaska Hotel, and Lorna Crozier has learned how to tie her logging boots at the Rolla Pub. Kane has also organized retreats, festivals, and writer-in-residence programs throughout the Peace River region, and this summer she will be assisting in the second Muskwa-Kechika Artist Exploration Camp and the Muskwa-Kechika Naturalist Camp.
Website » www.donnakane.com